We at the Episcopal Day School believe that Student Leadership and Service is a crucial part of the educational experience for children. We are now laying the groundwork to put forth a program that will give our students more opportunities to be leaders and to participate in programs that will positively impact our campus, community and planet.
Nice Months of Smiles
Community Service Project

At the Episcopal Day School our students and families are encouraged to participate in our effective community service project, Nine Months of Smiles. This program was created and designed by our Administration, Church of the Advent and teachers to give every child in our school the opportunity to make a real difference in our community. Through this program students learn how to work towards a common goal and help others. Nice Months of Smiles is a yearlong project and it enables each grade level to champion a month long community service project.
Our intention is to help as many non-profit organizations here in Brownsville, we work closely with the following organizations: Brownsville Animal Regulation & Care Center, Skinner Elementary, The Ozanam Center, Good Neighbor Settlement House, Plastic Oceans, Tip of Texas Family Outreach, Brownsville Literacy Center, Cameron County Children's Advocacy Centers.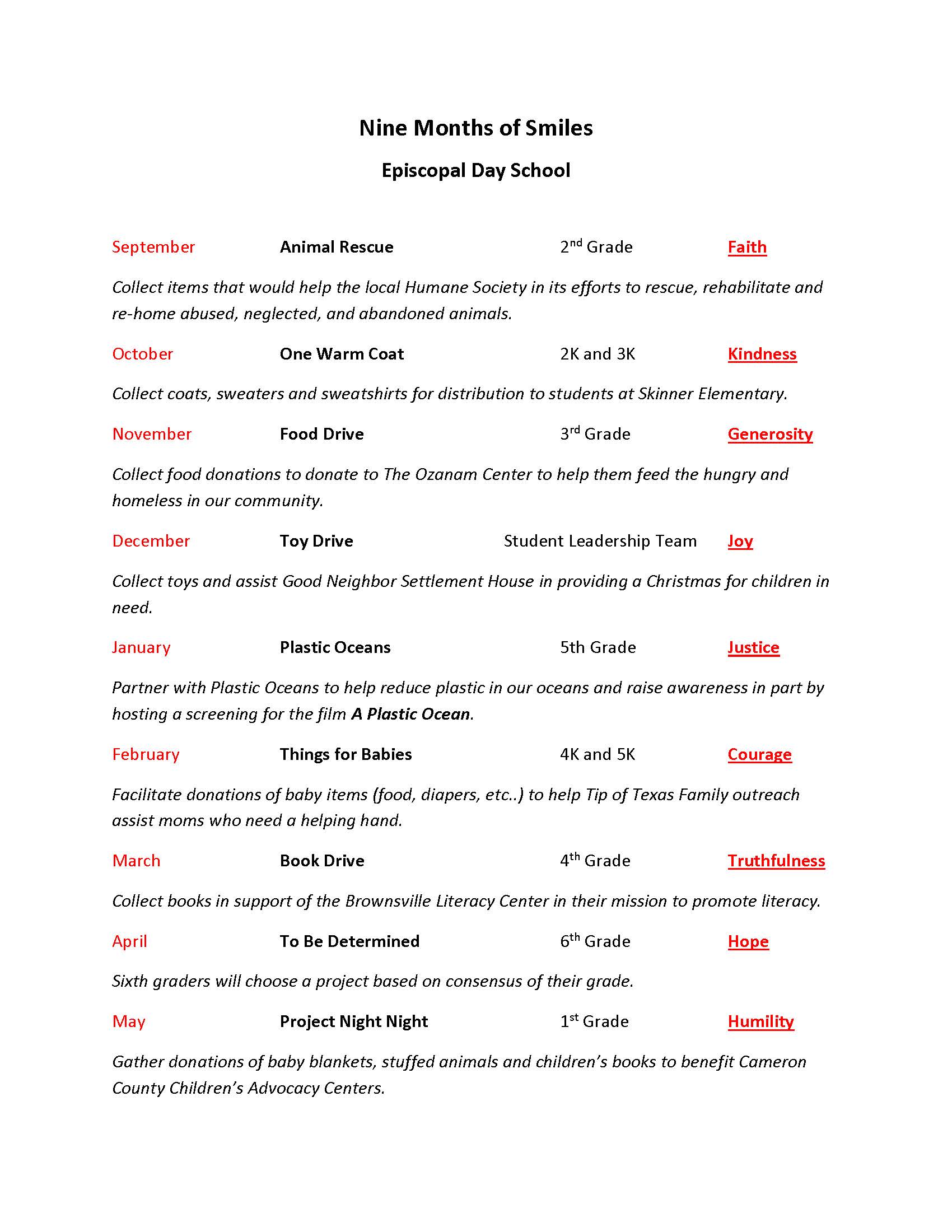 Student Ambassadors
In keeping with the mission of The Episcopal Day School, the Student Ambassadors program provides students in grades 4 - 6 with opportunities to enhance the educational experience provided by the school. The Episcopal Day School Student Ambassadors foster school spirit, encourage student involvement in school activities, and serve as liaisons between the school and the global community.
Goals of Student Ambassadors
On Campus
1. Promote school spirit and pride. Social Events, Assemblies, Kudos Committee
2. Provide assistance to the school community. Open Houses, Events at School, and Warm Welcome
3. Inform school community about opportunities for outreach. Food and toy drives. Nine Months of Smiles
Community Outreach
1. Organize food/toy drives. Food Drive and Toy Drive
2. Organize and implement community outreach programs.
3. Other approved programs as determined by Student Ambassadors, their sponsors, and administrators.
There are many ways to make a difference!
Kudos Committee - Sponsors weekly or monthly awards to all those who work and play in the Brownsville School community. Organizes, promotes and assists at the 3 scheduled skating parties.
Help Squad - Helps keep arrivals and dismissals safe. Raise and lowers the flag. Helps with all school events.
Chapel Champions - Works with Madre Laurie to help plan and conduct chapel services.
STUDENT AMBASSADOR PLEDGE
We, the Student Ambassadors of Episcopal Day School pledge to loyally represent our class and school by:
including and helping others in a team manner,
trying our best academically,
being consistent in our good behavior, and
being an honest and enthusiastic role model.
We believe in the honor of our Student Ambassadors and in
The Episcopal Day School.